KK661 offshore custom build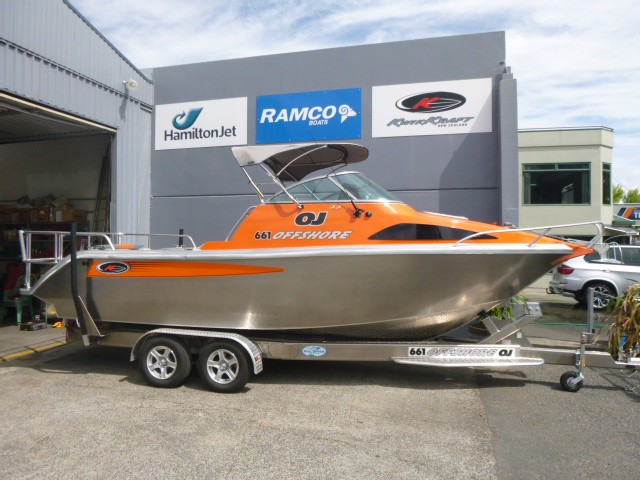 Marinepower 400HP VVT Engine and HJ212 Water jet. Custom build fit-out to Owner's specs
$160,000.00
SOLD
This is a Kwikkraft 661 offshore jet, built by Kwikkraft at Rangiora Christchurch
The boat was built for crossing the Pukehina Bar in the Bay of Plenty.
With that in mind, we wanted to give the client a safe dry boat with good acceleration from stationery and a strong mid range for quick response time between the swells.
I flew down 3 times while the hull was taking shape working with Kwikkraft to ensure we got the build right for my client, nothing was a problem to these guys they are very easy to work with and very professional.
The jet unit is a Hamilton jet 212 unit fitted with a turbo impeller supplied by Hamilton Jet Christchurch.
The Engine selected is a marinepower Chevrolet L96 VVT Engine
The engine develops 400Hp at 5400RPM and being VVT this makes for a very strong mid range between 3 & 4,000RPM
The engine was supplied by Performance Engine Centre Christchurch. These guys are the importers for marinepower Engines to new Zealand and have all the correct information on Engine selection etc for your boat.
As a result of working with all these companies, we have a boat that is responsive & predictable, dry, stable and easy to launch......And some very happy clients!
Contact us with any queries about custom building a boat for you.